Discover all of our Social Apartments offering private bathroom & toilet facilities
When you live with other people for the first time, sharing a bathroom can seem a bit intimidating, especially for women. One of the most frequent question that we receive at Social Apartment is if we provide any rooms with a private bath and toilet. While the majority of our properties offers shared bathrooms and toilets, we also do our best to think about people who prefer a bit more personal space. Because of this, we do in fact offer few properties with a bath and toilet included in the room.

These options are generally extremely popular and highly coveted, and can be a great compromise between preserving your full privacy and our unique Social Apartment concept. It can especially be a great chance for those who are new to shared life to get your feet wet with a little bit of social living before taking the plunge to a place with more shared facilities.

For people who prefer a bit more intimacy, here is a list of all of our properties offering a private bathroom & toilet in the Kanto/Tokyo area:
World Neighbors Kiyosumi-Shirakawa (Tokyo)
---


Our most popular property ever! Socializing has never been easier! Large & cozy private apartment (20㎡). By bringing a cafe in the luxurious laundry room, we are aiming to improve our residents life by transforming a simple and boring task into a Social & Fun experience! Enjoy a simple coffee, a dinner with your friends or order your food for take-out... Simplify your lifestyle the way you want!

【Property detail】
# of rooms: 134 rooms
Access: 13min walk from Kiyosumi-Shirakawa Station (Hanzomon, Oedo Line) & 13min walk from Kiba Station (Tozai Line)
Website: http://social-apartment.com/builds/view/49

Neighbors Meguro (Tokyo)
---


A new place for those with discerning mature taste in Meguro. Take a step into our exclusive member's only club in your own home. Exclusive only for tenants and friends lucky enough to get an invite, Neighbors Meguro is the only social apartment with an in-house speakeasy.
Take off your coat and take a seat at the English bar counter that's straight out of a scene from James Bond. After a long day of work, it's the right time to whip up an extra dry vodka martini. If you are not one to drink, make it an orange juice. Shaken, not stirred.

【Property detail】
# of rooms: 84 rooms
Access: 19min walk from Meguro Station (JR Yamanote Line) & 12min walk from Musashi-Koyama Station (Tokyu Meguro Line)
Website: https://www.social-apartment.com/eng/builds/tokyo/meguro-ku/view/58

Social Apartment Harajuku (Tokyo)
---
Opened in 2014, our Social Apartment Harajuku is certainly one of our most popular and coveted property! Located only 5min walk from Harajuku Station and its worldwide most famous Takeshita Street, this is the very first property to be built and designated from scratch, resulting in one of the most stylish building you can find in the area.

【Property detail】
# of rooms: 32 rooms
Access: 5min walk from Harajuku Station (Yamanote Line) and 4min walk from Kita-sando Station (Fukutoshin Line)
Website: http://social-apartment.com/builds/view/19


Social Apartment Komae (Tokyo)
---
On the ever popular Odakyu train line, linking some of the most desirable residential areas of Tokyo to the heart of the city, you will find an exciting Social Apartment community. Komae City, located in the near-center of Tokyo, is famed for the gorgeous Tamagawa River that has come to symbolize the area. From Komae station, it is only 15 minutes to the famous Shimo-kitazawa, and 21 minutes to Shinjuku, providing simple access to two of Tokyo's most popular areas without any transfer.

【Property detail】
# of rooms: 44 rooms
Access: 15min walk from Komae Station (Odakyu Line)
Wesbite: http://social-apartment.com/builds/view/23


Social Apartment Nakagawara (Tokyo)
---
Nakagawara station is directly 30mins from Shinjuku station by Keio-train line, 2 stations away from Fuchu station and easy access to JR Nanbu-train line. The area is very easy to get around. This social apartment is just 2 mins walk from the nearest train station and 5 mins walk to Tama-river location. It's recommended place for jogging and walking for your relax especially on a clear day.

【Property detail】
# of rooms: 28 rooms
Access: 2min walk from Nakagawara Station (Keio Line)
Wesbite: http://social-apartment.com/builds/view/3


Club Copora Ikebukuro (Tokyo)
---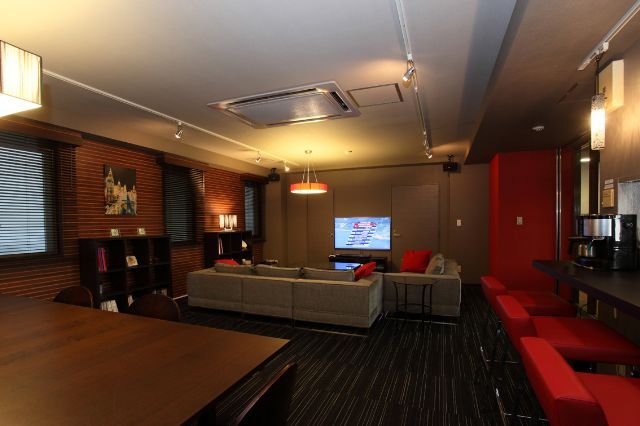 Located in Ikebukuro, one of the three major metropolitan sub-centers on the Yamanote Line, all rooms in this property are newly renovated, fully furnished and come with private bathrooms and a private kitchenette as well. Ikebukuro Station is a busy commuter hub traversed by three subway and multiple urban and suburban train lines, granting you access to all Central Tokyo and surroundings.

【Property detail】
# of rooms: 18 rooms
Access: 13min walk from Ikebukuro Station (Yamanote Line, multiple subways lines, Seibu-Ikebukuro line, Tobu-Tojo Line)
Wesbite: http://social-apartment.com/builds/view/34


Neighbors Futakotamagawa (Tokyo)
---
A mere 14 minutes away from Shibuya, in the booming, increasingly popular area of Futakotamagawa, a new Social Apartment opened its door May 2016. The area around Futakotamagawa station is filled with excellent opportunities for dining and entertainment, with Takashimaya and the newly finished Futakotamagawa Rise shopping centers serving as hubs for not only shopping, but also gourmet dining, art installations, and plenty of entertainment options. With well-known storefronts like Tsutaya Kadden, and restaurants such as Bills, this is a trendy vibrant neighborhood that just keeps getting better.

【Property detail】
# of rooms: 75 rooms
Access: 20min walk from Futakotamagawa Station (Den-en-toshi Line)
Wesbite: http://social-apartment.com/builds/view/9


Casa Gran Kaminoge (Tokyo)
---
Our Social Apartment in Kaminoge is like a secret hideout for people who wish to cherish their private time, with an extra opportunity to communicate with new people at a stylish lounge. You'll find in the basement of the property a gorgeous 80㎡ lounge with many amazing features. A huge skylight and windows light up the space during the day, and fashionable dim lights together with the mesmerizing bar counter that glows in different colors create an elegant & cozy bar-lounge atmosphere during the night. The highlight of the room is the theater space with its 120inch projector, offering you a true Cinema experience at home!

【Property detail】
# of rooms: 24 rooms
Access: 4min walk from Kaminoge Station (Tokyo Oimachi Line) and 15min walk from Futakotamagawa Station (Den-en-toshi Line)
Wesbite: http://social-apartment.com/builds/view/25


Social Apartment Wako (Saitama)
---
Fully private bathroom, toilet and a private kitchenette as well available in each apartment. When it comes to convenience of travel, Wako shines as an especially accessible place, with access the Fukutoshin, Yurakucho, and Tobu Tojou lines. From its starting point in Wakoshi station, feel free to grab a seat on the Fukutoshin line and ride a mere 15 minutes to Ikebukuro, 20 minutes to Shinjuku Sanchome, or 26 minutes to Shibuya.

【Property detail】
# of rooms: 41 rooms
Access: 15min walk from Wakoshi Station (Fukutoshin Line, Yurakucho line, Tobu Tojo Line)
Wesbite: http://social-apartment.com/builds/view/21


Social Apartment Urayasu (Chiba)
---
Urayasu is one the most popular residential town in Chiba area for easy accessibility to Tokyo Otemachi area and the convenience of the town. It is so attractive that people who have lived here tend to choose Urayasu again when moving, proving that the local population has been stably increasing for decades. Do those points attract so much? No, there's more... The globally re-known wonderland, "Tokyo Disney resort" is strategically located in Urayasu area, just 3km away from the apartment that you can jog to Disney. There are fireworks every night, see-able from some rooms.

【Property detail】
# of rooms: 43 rooms
Access: 18min walk from Urayasu Station (Tozai Line) and 20min walk from Shin-Urayasu Station (JR Keiyo Line)
Wesbite: http://social-apartment.com/builds/view/24


Social Apartment Aobadai (Kanagawa)
---
Only 25 minutes from Shibuya on the popular Denentoshi line, the property is only a 5 minute bike ride from the station, which is filled with lovely scenery. For a long time Aobadai has been known for "the creation of a green city" due to urban planning focused on the use of plants and landscaping to integrate nature into the urban environment.

【Property detail】
# of rooms: 50 rooms
Access: 17min walk from Aobadai Station (Den-en-toshi Line)
Wesbite: http://social-apartment.com/builds/view/26