Striking a Playful Balance in Oizumigakuen
Living in the bustling metropolis of Tokyo can be an immensely exciting and rewarding experience.
The world's biggest metropolitan area is teeming with opportunities, experiences, flavors, music, and much more, making life in Tokyo a seemingly non-stop adventure. But where do you go when the hustle and bustle of the city becomes too much? After living here for a long time, most people start to crave a home life that is separated from the chaos of a crowded city; a place that achieves some semblance of balance between the convenience of urbanity and the peace and quiet of suburbia.

Oizumigakuen on the Seibu Ikebukuro Line is exactly such a place, filled with all the conveniences of Tokyo life with a relaxed residential atmosphere and a touch of refreshing natural beauty. And in the midst of this great part of Tokyo, you'll find Social Apartment Oizumigakuen, an exciting designer property boasting an inviting and engaging community.




With playful colors and graphics and a spacious yet homey lounge, this Social Apartment is the perfect place to kick back, relax, and enjoy yourself after a hard days work.
The main lounge has incredibly comfortable leather sofas accompanying the large screen TV; a standard feature for Social Apartments, but an extra welcoming and comfortable area for Oizumigakuen. The floor-to-ceiling windows mean that there is always plenty of sunlight coming in to light the room up, giving the already roomy environment an even greater sense of openness.
This is an absolutely wonderful place to spend either a bustling night with friends, or a lazy Sunday morning.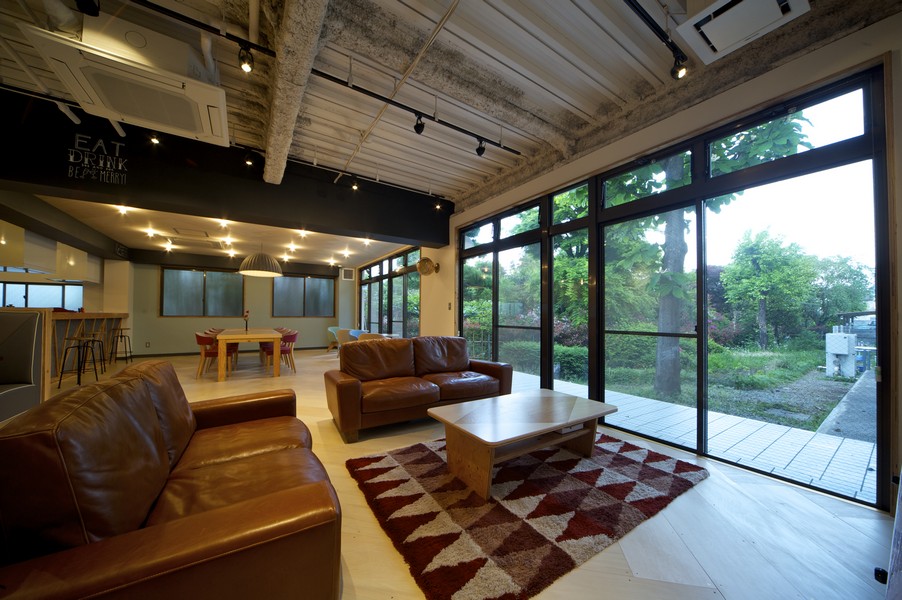 The kitchen is equally spacious, with plenty of room for cooking at the island kitchen, and an open construction that invites you to communicate while you cook. What better way to get to know new people and expand your relationships than sharing a meal with one another?




If you need to get a little bit of work done from home, the working lounge is only a few steps away. Working lounges have become a staple of Social Apartments, but with the convenience of having a dedicated work-space in your own home, it's not hard to see why. A dedicated space to let your creativity flow means that you can relax even more in the comfort of your own room.




Rooms themselves are spacious, with high ceilings and wide windows that give an even greater feeling of personal space. The rooms at Oizumigakuen are also full of storage options, with ample closet space, and overhead compartments for hard-to-store items like luggage. Every room is painted with soft and welcoming off-white colors that make the most of natural light to give you a bright and cheerful living space.




Oizumigakuen is a neighborhood with a splendid amount of greenery that really helps to add a level of humanity and comfort to the busy Tokyo lifestyle.
Social Apartment Oizumigakuen is no exception, with a lovely roof terrace and a terrace attached to the lounge, allowing you to enjoy the abundant trees and greenery that accompany the property. Looking out your window to be greeted by vibrant healthy trees (with flowers in the springtime) is certainly a welcome sight!




All of these great features contribute to a community life filled with fun and laughter at Oizumigakuen. With a concept centered around a playful state of mind, we've done our best to create a space where residents can unwind and let loose, all the while building lasting relationships from the comfort of their own home.




Right now, SA Oizumigakuen is in the middle of an amazing no key money campaign. And for those choosing two year contracts, there is even more reason to get excited with a month of free rent on top of that. Don't miss your chance to join this stylish community today!


▼▽▼ 360° Panorama pictures of the building ▼▽▼
http://www.social-apartment.jp/sa_oizumigakuen/
▼▽▼ Inquire now ▼▽▼
http://social-apartment.com/builds/view/32
Feel free to contact us if you would like to inquire for this building or to book a viewing at your earliest convenience. We have native English, French and Japanese speaking staff ready to assist you. If there is anything we can do for you, we are more than happy to assist you!